About InOvate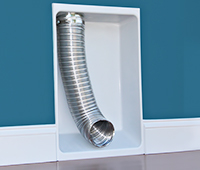 Dryer Safety & Efficiency
For more than 20 years, InOvate has focused on improving exhaust performance and safety for clothes dryers. Beginning with a better way to connect a dryer's transition hose—with a 1995 patent award for the Dryerbox®—the family of premium products now includes twenty SKUs.
Helping new home buyers save energy and improve home safety, with the Dryerbox, fostered a unique perspective and passion about overall exhaust system performance. Other restriction points were identified, and the determination to address them led to new product development projects. Today, the product family covers the entire exhaust system and, in addition to the Dryerbox, includes the brands DryerClamp™, Dryer-Ell®, DryerFlex®, DryerJack®, DryerPlacard™, DryerWallVent®, and the LintAlert®.
Product Development & Quality
An unrelenting focus on the smallest of details drives the quality and premium value each product brings to its market. Development includes years-long cycles of prototype creation, testing, tweaking, and re-testing. This process has yielded myriad innovations and products that are advanced in their simplicity and performance. Delivering quality, high-performance product is the first pillar in customer satisfaction.
Customer Service
InOvate's continued success is rooted in the supreme value placed on developing long-term relationships and striving for flawless customer support. In addition to product quality, goals for superior customer satisfaction are achieved through respectful interaction, on-time delivery, reliable follow-up, and by continually looking for ways to exceed expectations.
Corporate Structure
In 2019, Continental Materials Corporation (CMC) acquired InOvate Technologies to further enhance its building materials portfolio. As InOvate is part of a larger group of stand-alone businesses, underlying synergies and strategies help drive our collective organizations forward. Get to know our portfolio and contact us today if we can help you think bigger and do more with the CMC businesses at large. With CMC, we're all stronger together.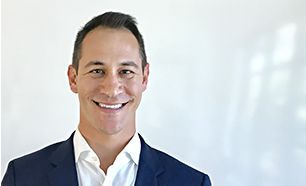 Cliff joined the InOvate Team back in 2010 and has focused on creating a balanced product portfolio with niche solutions that are sold through various B2B channels. His efforts have helped bring innovations to market along with opening new sales verticals outside of new construction. Cliff strives to lead InOvate's upbeat corporate culture internally while ensuring the customer experience is always exemplary in each unique market served.
After earning his MBA degree, Cliff launched a business selling customized disposable goods to party planners and noteworthy venues across the country. After 4 years, he sold the business and got involved with InOvate in 2010. Cliff has taken on a variety of consulting projects in his past and is still engaged in public speaking events touching a variety of audiences. The InOvate opportunity leveraged Cliff's entrepreneurial drive and has resulted in helping grow the Company significantly since joining the team.
Cliff has a Bachelors Degree in Business Administration (BBA) from Florida Atlantic University. He then earned his Masters in Business Administration (MBA) with a focus in Global Entrepreneurship from Florida Atlantic University.

James Ortiz
VP of Operations
James successfully transitioned from a core Dryerbox salesperson to the company's Operations backbone over his 15-year span with InOvate. His industry relationships are both valuable and deeply respected amongst HVAC wholesalers, manufacturers, and rep groups. James has an incredible ability to manage our manufacturing plants, fulfillment centers, logistics, and headquarter staff to keep InOvate running as a lean operation with ongoing growth potential.
After growing up in Pittsburgh, PA and attending Penn State University, James took the opportunity to escape the cold and move to Jupiter, FL by accepting a sales/marketing role with InOvate nearly two decades ago. Since then, his involvement with operations grew exponentially as the company matured and sales increased. James is actively involved in managing our ERP/CRM software and plays an integral role with all supply chain vendors.
James earned his Bachelors in Journalism from Pennsylvania State University.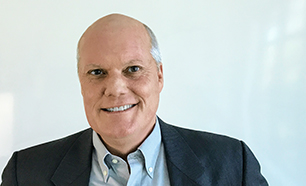 Todd champions our marketing strategy with one core focus: YOU, the customer. He strives to position each of InOvate's brands in the best light, creating a philosophy where each customer is the hero, and it's our role to give them the best solutions for each job. Through Todd's effort, InOvate positions its premium offerings to align with companies that proudly represent best practices. Todd and his team manage all aspects of website development, SEO, coding, graphic design, video editing, and much more.
Todd's marketing success stems from decades of successful ventures in different industries. For nearly three decades, Todd's bag of marketing tricks continues to grow with proven strategies that deliver impressive results. He's a methodical planner that leverages analysis, strategic development, and tactical execution to achieve goals. Todd's previous roles include VP of Sales and Marketing, Director of Strategic Marketing, and Advertising Sales Manager for reputable organizations in the Southeast US.
Todd earned his Bachelors Degree in Marketing from Western Carolina University. Awarded a Masters Certificate in Marketing Strategy from Cornell University in 2020.

Josh Goldstone
Controller
Josh is dedicated to strengthening InOvate's bottom line through various tactical accounting practices. He is responsible for all financial and HR operations at InOvate. Josh is an analytical thinker that is heavily involved in sales and marketing strategies. He exudes a passion for financial accountability and success that is evident in all his day-to-day responsibilities, both with tasks he tackles along with those that are delegated to his support staff.
After graduating from Hofstra University, Josh was the Financial Manager for Maxim Hygiene Products, a niche business that experienced strong growth during his 3-year tenure with the NY-based firm. His experience in dealing with small businesses parlayed well with his move to South Florida when joining the InOvate team in 2016.
Josh earned his Bachelor of Business Administration (BBA) from Hofstra University while focusing on General Finance studies.
Frank's sales prowess is motivated by strategy and he's passionate about creating synergies through teamwork. Frank's leadership was evident on day one and he continues to create opportunities and cultivate a positive work atmosphere. He's intricately involved in managing all B2B channel sales and actively travels to various trade shows, conferences, and meetings to elevate InOvate's brands.
Frank joined InOvate in 2015 as an Account Manager focused on growing sales through HVAC supply houses and roofing distributors. Previously, Frank was the Senior Sales Support Manager and Product Specialist for Captiva Spine, a medical device company. Frank began his career in the health and wellness field fueled by his passion for physical education that stemmed from his role as Student Athletic Trainer for Florida State University's collegiate football team.
Frank received his Bachelor of Arts (BA) from Florida State University while focusing on Health and Physical Education. He later earned his Masters of Business Administration (MBA) from Florida Atlantic University with a concentration in Health Administration.

Missy Clark
Business Office Manager
Missy's role helps bridge operations, accounting, and sales together – both internally at InOvate's headquarter office, and externally when dealing with customer-facing responsibilities. She's intricately involved with logistics, AP/AR, and many HR duties. Missy is a key asset in many ways and works directly with the COO and Accounting Manager regularly. Her strengths lie in her ability to wear many hats and multitask while making sure orders ship on time and at the best landed cost for our customers.
Prior to joining InOvate in 2013, Missy was a Personal Banker for Wells Fargo and spent many years as a Trainer/Manager for JPMorgan Chase. In fact, Missy was InOvate's favorite banker with Wells Fargo and we created this role for her that leveraged her years of management and efficiency-driven mindset to support our Operations and Accounting teams.
Missy received her Associate of Arts (AA) degree from Daytona State College and studied Liberal Arts and Sciences.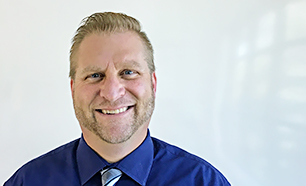 Ryan's passion for sales, sales management, and team cohesiveness is evident in every meeting, call, and task he tackles. He manages project-specific jobs for new construction builds and works with national property management firms as they renovate existing properties with InOvate's solutions. Ryan's drive to meet and exceed goals resonates throughout the office. Ryan's customers appreciate his dedication to supporting the pull-through model and providing layers of marketing support that generate proven sales success.
Ryan spent years a Sales Manager for Wallace Auto Group and was also the Financial Manager for Audi of America in Stuart, FL. Earlier in his career, Ryan was a Police Officer & Narcotics Detective in Detroit, MI. He also owned his own private investigation firm in South Florida.
Ryan attended Henry Ford Community College and Lake Superior State University.

Bobby Chisholm
Account Manager
At his core, Bobby is a remarkable salesperson that executes tasks to their fullest. Bobby has a customer-centric mindset and is always focused on matching the customer's needs with the applicable solution(s). He manages service companies and suppliers across the country with a territory covering northern states in the US. He cultivates new business through trade shows, conferences, and organic lead generation while supporting current customers through constant contact, promotions, and providing marketing collateral.
Bobby joined InOvate in 2012 and played an integral role launching the DryerJack roof termination. He created awareness and sales through roofing contractors and supply houses. Before InOvate, Bobby was an Online Marketing Manager for SMI Network, an affiliate marketing group based in South Florida. Out of college, he also was the Assistant Director of Admissions at EDMC.
Bobby earned his Bachelors degree in communications from Clarion University of Pennsylvania.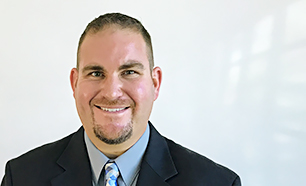 Matt is a goal-oriented individual that is passionate about cultivating long-term relationships versus a short-term sale. He joined InOvate in 2016 and immediately immersed himself in learning, executing, and improving our sales process when serving home service companies and their respective suppliers. His ideas have led to numerous successful marketing campaigns, trade show and travel opportunities, and (of course) a noticeable increase in sales & customer satisfaction.
Matt worked with a prominent building supply company before joining InOvate where he learned many aspects of selling through distribution and working with tradesmen. His sales training and experience was further strengthened after years of selling time shares, cars, and real estate. Matt brought a variety of skillsets and proven track history in building relationships and serving customers that were engrained in him after almost two decades of dedicated sales roles.
Matt graduated from Palm Beach State College with a Bachelor of Business Administration (BBA) degree.

Ben Fleming
Account Manager
Ben joined InOvate in 2018 to support over 2,500 HVAC supply houses that benefit from the Company's pull-through demand sales model. He actively calls and visits his southern territory-based accounts and provides a full scope of marketing collateral that keep our solutions top of mind to contractors, builders, architects, and engineers. Ben is passionate about building relationships and strengthening the customer lifetime value which is evident on every call, visit, and trade show presentation.
Prior to InOvate, Ben proudly served in the United States Coast Guard as a Machinery Tech where he learned the importance of working efficiently and effectively. After the Coast Guard, Ben's ability to execute the task(s) at hand eventually made him a top producing car salesman in Martin County, FL. He also showed an entrepreneurial drive by owning and operating a brick-and-mortar hobby store for 3 years in Florida.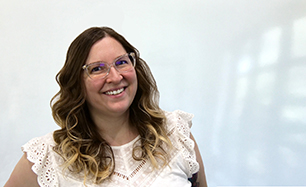 Michelle is a creative individual with a strong eye for detail. She is passionate about content creation and specializes in CGI with expertise in 3D modeling, animation, visual effects and compositing. She is fluent in all areas of video production and enjoys creating 2D animations and motion graphics. Her experience in graphic design, writing and editing makes her a dynamic marketer with a comprehensive approach to digital marketing.
Michelle has an entrepreneurial background with experience in marketing and digital marketing as well as client and project management. She has worked on projects for web, tv, print and film. She has edited a handful of books and has served in various administrative and creative roles, giving her a business-oriented perspective on a traditionally artistic expertise.
Michelle earned her Bachelor of Science in General Business Administration with focus in Marketing and Economics from the University of South Florida and her MFA in Visual Effects Animation from the Digital Media Arts College, Summa Cum Laude with the honor of Distinguished Graduate.

Jackie Lopopolo
Office Coordinator
Jackie is community-driven with strengths in client communications and customer service. Her strong communication skills and positive attitude allow Jackie to assist InOvate's customers with the highest level of care and attention. Her creative nature gives her the ability to work with customers and the InOvate team to find the right solutions that fit client needs. She is instrumental in facilitating internal as well as customer-facing logistics, working closely with the Business Office Manager.
Jackie has spent several years working in customer service and logistical roles with experience managing day to day operations, managing inventory and overseeing the distribution of products. She also has a creative background in print & digital design, marketing and digital art. Her experience multi-tasking in fast-paced, customer service positions make Jackie an asset to the InOvate team.
Jackie earned her Bachelor of Arts from the Florida Atlantic University College of Arts & Letters in Communication Studies with honors, Cum Laude.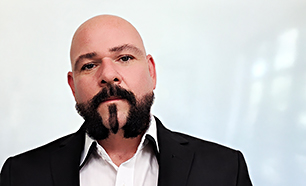 Steven's technical skills and creativity have elevated InOvate's digital impact dramatically. From content creation to website security, the scope of his position has morphed into many genres. Proficient in video production, social media, digital ads, CGI, web development, graphic design and many other areas of 1's and 0's, he has rapidly taken on each task and created comprehensive new programs to provide consumer awareness.
Steven's background is rich in digital marketing, coding, and app development – just to name a few skill sets. An artist's soul with a programmer's mind, the learning process has led to app development, authoring, audio production amongst many other instances of creation. Steven also served as the Web Engineer/Web Developer/Director of Internet Technologies for a dental management company with over 60 dental practices located throughout Florida and Georgia.
Steven's training consists of a plethora of self-taught and traditional courses in wide-ranging subjects from Programming to Home Inspections to ITIL to 3D Modeling. New technology is a passion and he consistently yearns for knowledge.