About InOvate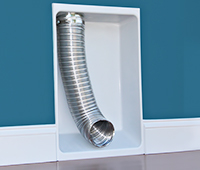 Dryer Safety & Efficiency
For more than 20 years, InOvate has focused on improving exhaust performance and safety for clothes dryers. Beginning with a better way to connect a dryer's transition hose-with a 1995 patent award for the Dryerbox®-the family of premium products now includes twenty SKUs.
Helping new home buyers save energy and improve home safety, with the Dryerbox, fostered a unique perspective and passion about overall exhaust system performance. Other restriction points were identified, and the determination to address them led to new product development projects. Today, the product family covers the entire exhaust system and, in addition to the Dryerbox, includes the brands DryerClamp™, Dryer-Ell®, DryerFlex®, DryerJack®, DryerPlacard™, and DryerWallVent®.
Product Development & Quality
An unrelenting focus on the smallest of details drives the quality and premium value each product brings to its market. Development includes years-long cycles of prototype creation, testing, tweaking, and re-testing. This process has yielded myriad innovations and products that are advanced in their simplicity and performance. Delivering quality, high-performance product is the first pillar in customer satisfaction.
Customer Service
InOvate's continued success is rooted in the supreme value placed on developing long-term relationships and striving for flawless customer support. In addition to product quality, goals for superior customer satisfaction are achieved through respectful interaction, on-time delivery, reliable follow-up, and by continually looking for ways to exceed expectations.
Corporate Structure
In 2019, Riverbend Industries acquired InOvate Technologies to further enhance its building materials portfolio. As InOvate is part of a larger group of stand-alone businesses, underlying synergies and strategies help drive our collective organizations forward. Get to know our portfolio and contact us today if we can help you think bigger and do more with the Riverbend businesses at large. With Riverbend, we're all stronger together.